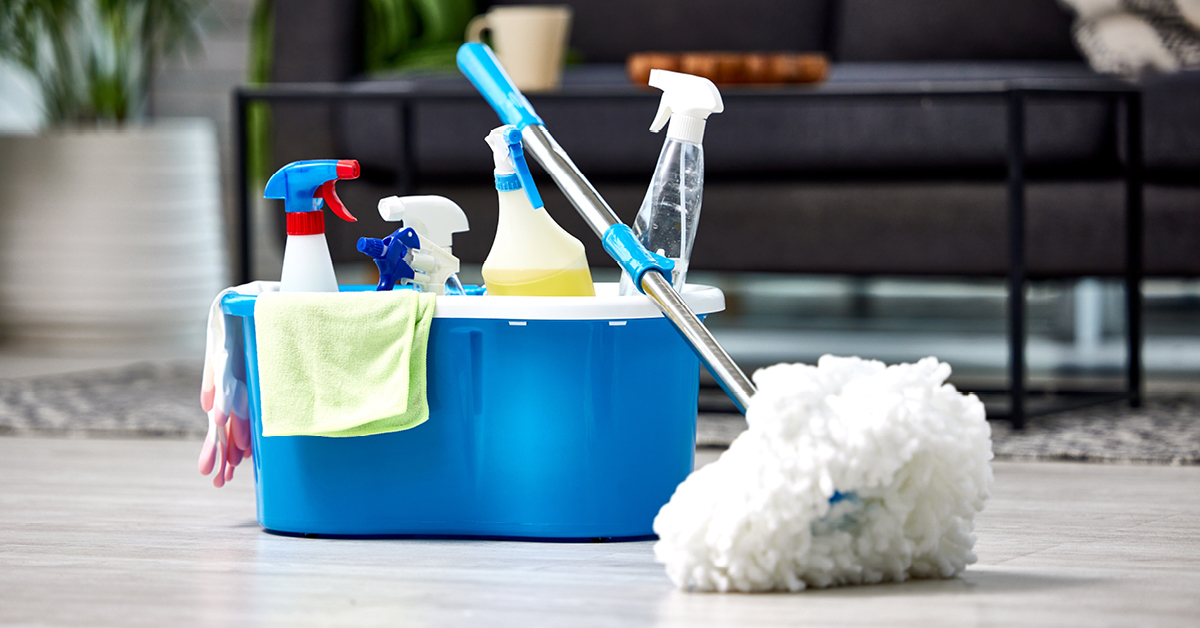 Spring is here. And there's no better way to welcome sunny skies and warmer weather than to start off with a clean space. Whether you're getting ready for an open house or just needing a home refresh, this cleaning checklist will have your home ready for the season.
Floors and Baseboards
One of the best ways to start a home refresh is to show a little love to those floors and often-forgotten baseboards, because did you really spring clean if you didn't hit the baseboards? First, give the baseboards a good dust, then go over with a damp, microfiber towel to make them sparkle and shine like new. Next, hit the floors. For hardwood or tile, sweep, steam and mop. Replace any broken tiles or wooden floorboards. For the carpet, make sure to move heavier furniture to vacuum hard to reach areas. If you're considering listing your home soon, go the extra mile and shampoo those carpets. The average cost of a professional carpet cleaning service is $180. If you'd like to DIY, home improvement retailers rent carpet cleaners.
The Fridge
Throw out leftovers, expired sauces and drinks, and unused produce from the grocery run two weeks ago. Take out the drawers and wash them with warm water and soap. Clean your shelves, drawers and walls to make room for fresh items and new organization. Change the water filters if you haven't already and don't forget to recycle that "save the date" for the wedding you attended months ago.
The Oven
Coming off the heels of the holidays and cooler months, it's safe to say the oven likely got its fair share of use and needs to be deep cleaned. You can opt for an oven cleaner, a grease-fighting dish soap or a homemade paste to bring one of your kitchen's most used appliances back to life.
Air-Conditioner Filters
A sweet spot for replacing air filters is about every 90 days (about 3 months). If you changed your filter for the new year, chances are it's time to change it again. A fresh air filter will help the home cool better and decreases the chance for dust and impurities circulating in your space.
Windows
The sun can't give you the natural light you desire if your windows are cloudy and dusty. Be sure to dust your blinds, steam your curtains and clean your window panels, both inside and out. Check for any cracks in the sill and repair them with some caulk.
Closets
Ah, the dreaded closets. How do they get so messy and unorganized? Taking the time to clean up, clean out and reorganize your closets is a painful, yet rewarding process. Get rid of clothes you haven't worn in the last year, organize those shoes, and be sure to vacuum and dust in there so you feel good reaching for your wardrobe every morning. Closets are a key place buyers look during showings and you don't want it cluttered from floor to ceiling when they take a peek!
We hope this to-do list didn't overwhelm you but it's important to keep your space clear of clutter and ready for visitors, especially if you're thinking of selling.
Looking for a shorter spring-cleaning list? Check out this article.
Looking for more home tips? Visit our Home Buyer and Seller Corner for articles on energy efficiency, open house prep, home insurance tips and more.