We're Your Florida Underwriter
Our site may look and feel different, but our commitment to you is still the same. Whether it's through our underwriting expertise, innovations that enhance the experience for both you and your customers or the solutions we create to meet your needs – everyone at Stewart Title Agency Services in Florida works in the true spirit of partnership to help you achieve your goals and grow your business.
Stewart Trusted Providers™ are the best of the best, so we always strive to provide the best service – responding quickly to meet your needs and to make it easy for you to work with us. And you can rest assured, that with Stewart Title Guaranty Company as your underwriter, we have the financial strength to get your largest commercial and residential deals done.
Stewart Trusted Providers
The Stewart Trusted Provider seal validates the high quality standards our title agencies and attorney agents have met to be a Stewart agent.
Community of Sharing
Over the past three years, you've helped us give over $125,000 to the community through our Community of Sharing™ annual charity program.

Agent of the Month
The Closing Boutique
The Closing Boutique has pioneered a new and unique closing experience for buyers and sellers, so that in addition to great service, knowledge and experience that all Stewart Agents are known to provide, the buyers and sellers enjoy a true celebration on their big day. Our goal is to develop a personal relationship with today's buyers and sellers so they are confident and relaxed throughout the process from contract through closing, and beyond. Closing day is made special with great food, beautiful closing rooms and a celebration toast at the end of each closing. Our goal is to raise the bar for the way closings are performed and encourage the title industry to go the extra mile to make the closing process a great experience for our buyers, sellers and Realtors!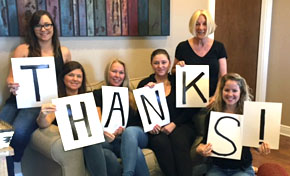 Names left to right are: Cheryl Harman, Sandy Lawson, April Torri and Melissa Devitt.