We're Your Florida Underwriter
Our site may look and feel different, but our commitment to you is still the same. Whether it's through our underwriting expertise, innovations that enhance the experience for both you and your customers or the solutions we create to meet your needs – everyone at Stewart Title Agency Services in Florida works in the true spirit of partnership to help you achieve your goals and grow your business.
Stewart Trusted Providers™ are the best of the best, so we always strive to provide the best service – responding quickly to meet your needs and to make it easy for you to work with us. And you can rest assured, that with Stewart Title Guaranty Company as your underwriter, we have the financial strength to get your largest commercial and residential deals done.
Stewart Trusted Providers
The Stewart Trusted Provider seal validates the high quality standards our title agencies and attorney agents have met to be a Stewart agent.
Education and Training
Stewart Title Agency Services gives Trusted Providers valuable training to help you succeed.
Agent of the Month
Metes & Bounds Title Company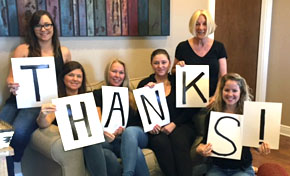 Metes & Bounds Title Company is locally owned full service title company in business since 2005. Owner, Susan Walker is supported by a staff of five. Nothing makes this owner happier than attracting and retaining new Realtor clients. The philosophy of the office is "make new friends but keep the old, one is silver and the other gold" – the goal is to turn silver clients into gold!
Metes & Bounds Title is active in supporting the local community; including "Lights and Ladders", an annual festival that contributes to the Wounded Officer Initiative. The Wounded Officer Initiative provides essential services to help address the long term needs of wounded law enforcement officers whose line of duty injuries have prevented them from returning to their law enforcement careers.
This quarter, Metes and Bounds has taken to their hearts the United Methodist Church of Montverde's food pantry, Loaves and Fishes. A building-wide food drive was held at their office at 17301 Pagonia Road in Clermont and in the month of June, a donation of $10 will be made for every closing that takes place.
All closers are licensed title agents. As a Stewart Title Guaranty Agency, Metes & Bounds is in full compliance with all CFPB and Alta Best Practices and has earned the Agency Secure designation.